Revealed secrets to total satisfaction and love...
"Make your own Three Little Pigs
Storybook (with felt and wool)
and create an unforgettable
imaginative childhood memory."
** All within an hour or less - just PRINT, CUT and GLUE!!

- Learn how you can easily create a home crafting project with this downloadable Three Little Pigs all time classic Templates book.

- From the WORLD'S MOST
INNOVATIVE Gift and Craft
Templates designer! -


Dear Parents and Creative gifters,
You may have had the same frustrations I have had looking for an educational and fun gift in one. It was my nephew's third birthday. He had been really into the story of the Three Little Pigs from watching a popular children's show and everywhere he went, he would say "he huffed and he puffed....etc." It was cute! Considering he didn't even know the story yet! So I thought I would get him the Three Little Pigs storybook. And that's when my search began...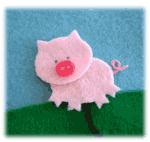 I searched everywhere to find something special for my nephew's birthday and it had to be like him - EXTRA SPECIAL! So I thought of those interactive storybooks with puppets and the like. But I couldn't find it anywhere!! And the ones that I found when I searched the internet were so expensive that I could've bought a lot more gifts that would've been of perhaps more value for the price. (Gifting is not entirely about the price, but they just weren't special enough for me!) The others were just not made for children his age.
So I decided to create one of my own to share with the rest of the crafting and gifting world. A fun tale with puppets and colours and most of all... suitable for a little child to grow into for the next couple of years to come.
In this creative ebook, you will have:
| | |
| --- | --- |
| | Printable templates and patterns to create your own felt storybook, |
| | Templates to create cute little pig and wolf puppets, |
| | Colourful instruction pages, |
| | Full colour story to print out, |
| | Full list of the felts you'll need, |
| | Easy to use (for both PC and Mac). |
This is also an activity and craft project ebook all in one. Use the templates and patterns to create a fun crafting day with your child and have them create something they can keep, read and play with!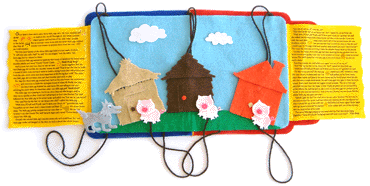 Learn how to make this for $3.79!
| | |
| --- | --- |
| | Excellent for reading, |
| | Perfect for puppet play (with full house building, pig and wolf puppets to go with the storyline), |
| | Easy to make, |
| | Convenient pack and take away system (so the littlies can't lose any bits!), |
| | Soft and easy for kids to use, |
| | Educational (Teach kids numbers and counting as well as colours), |
| | Friendly and fun version of the story! |
WHY PAY FOR MORE? When you can easily and quite cheaply create a kid friendly storybook and gift?!
With just felt, craft glue, scissors and a bit of wool, you too can create this great gift for a very very low price. All the materials are easily available at your local craft store and you can create this in less than an hour!! Plus you can use other materials such as paper or fabric - Why not use recycled materials??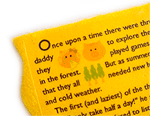 I wanted to add more to my storybook, so I included pages of the story of the Three Little Pigs. These story pages comes with little cute colourful icons and can easily be added to your own felt storybook by using printer iron-on transfer paper (also available in just about any craft or office supply store!)
I made this graphically designed ebook available to the rest of the world who love children's story books and fairytales (especially theThree Little Pigs) and so it's available only here for download.
HOW MUCH would you have to pay for a poorly illustrated Three Little Pigs book? $6.95, $9.95, I have even seen versions up to $29.95!! Ones that aren't even going to be read more than twice?? And where would you find an activity ebook with full puppet patterns that's safe for little kids?
Get this easy, simple to follow and complete storybook download and make a childhood memory straight away today!
And if for any reason you are not 100% satisfied with my little pigs storybook, you can get your money refunded back to you within 56 days from the date of purchase. Clickbank accepts all major credit cards and online checks (US and Canada). For all other payment methods please send an email to threelittlepigs-at-diygiftpackage.com .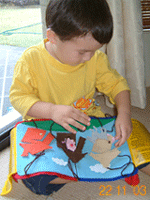 You will get the satisfaction like I did. Knowing that I gave a special gift from the heart, made by myself... and the reaction of the giftee? Absolutely UNDESCRIBABLE!! You'll have everyone praising you and there's just no words to describe these memorable experiences in your life.

Happy Gifting and Crafting,


Janlia Chong


PS. Never underestimate the power of a good handmade gift! Create the lasting impression that help build your child's promising future - < Order my Three Little Pigs from Clickbank now >
PPS. Take advantage of this offer today and receive exclusive Licensing and Angel Policy grant so YOU can start to make OTHER kids a better future too by selling the Three Little Pigs felt storybooks at school and craft fairs. (Limited agreements available, so act now to reserve yours!)

- Janlia Chong is also the designer and creator of the
popular gifting and crafting sites: www.diygiftpackage.com
and the www.printablepassions.com club.
Get creative gifting and crafting template ideas here. -

DIY Gift Package.com | Get more Gifting and Crafting Ideas | View real testimonials
© Copyright 2003 - 2008. Qualistyle Pty Ltd and Janlia Chong. All Rights Reserved for all logos, trademarks, pictures and templates. Any use, copying, or reproduction of the logos, trademarks, pictures, templates and contents contained within this site without prior written permission by its owners is strictly prohibited.
Web Hosting by HostM.com